Oh what a year 2021 has been! I have to thank God for all of our blessings. We are so incredibly fortunate in these times! God is all we need and he has provided so much for us and our family.  In this 2nd year of the COVID-19 pandemic, no one in our house has gotten sick from it. We've all been working. I'm in my 20th year at KELO TV and became a Legacy employee. Wendy has been 5 years at Celebrate and the boys all work at Furniture Mart's huge warehouse. 
This year we finally tackled replacing windows and siding on our house. We ordered them in March and hoped to see them in late July. While we waited we took care of some items around the house. First was upgrading the electrical panel from 100 amp panel to a 200 amp panel. A great upgrade to handle the amount of electronics used these days!  It was a bigger job than I thought it would be and took a couple back and forth with the city inspector to get everything up to code. 
Before we got siding we wanted to change our back door. It was an odd configuration to have to step down into the garage from the back patio. It was a source to collect leaves, debris, rain and snow. So after checking to see if it was within any code, we raised the door a few inches and filled in the step area with concrete. Wendy and I took on this project ourselves. It turned out much nicer and the back of the house looked much better!  
Our garden was the next thing on the list. We removed all the old brick we had around it and redid the whole layout making it so we could walk all the way around it. The dogs were happy for that too as Eevee likes to run around the shed to meet up with the neighbor's dogs. We did a raised box with pavers as a walking path. We had a good harvest with a nearly endless supply of grape tomatoes!  
Then at last in September the windows arrived! The crew jumped right in and started knocking the old ones out and installing the new. A few rotted areas where found where I expected to find them, but nothing that wasn't easily cut out and replaced. We had a total of 14 new windows installed. Wow!
A couple weeks after the windows the load of siding material arrived. The crew got right to work tearing off the old siding and putting the protective wrap over the house.  The pictures below will tell the story better than I can. About two weeks later the house was finished!
I even had enough leftover material to do my shed and since we had some unseasonably nice weather this fall, Wendy and I went to work and got the shed resided. Watching the crew do it was enough to figure it out, plus I got to buy a nice nail gun too. 😉  We'll have some touch ups to do in the spring when it warms up. 
And since you can never have enough projects. We went ahead and did a light makeover to the kitchen. We replaced the white microwave and refrigerator with matching stainless ones to go with the stove. Then we refinished the cabinets and put on a new countertop. It turned out very nice!
Also noteworthy this year is something that hasn't happened for me in a long time. I've bought plenty of cars, for the family, for the kids. This year was something just for me and I've needed a pickup ever since the El Camino went out of service. This is my new to me GMC Canyon! It's been exactly what I needed and I've already hauled lumber, leaves, and an engine in it.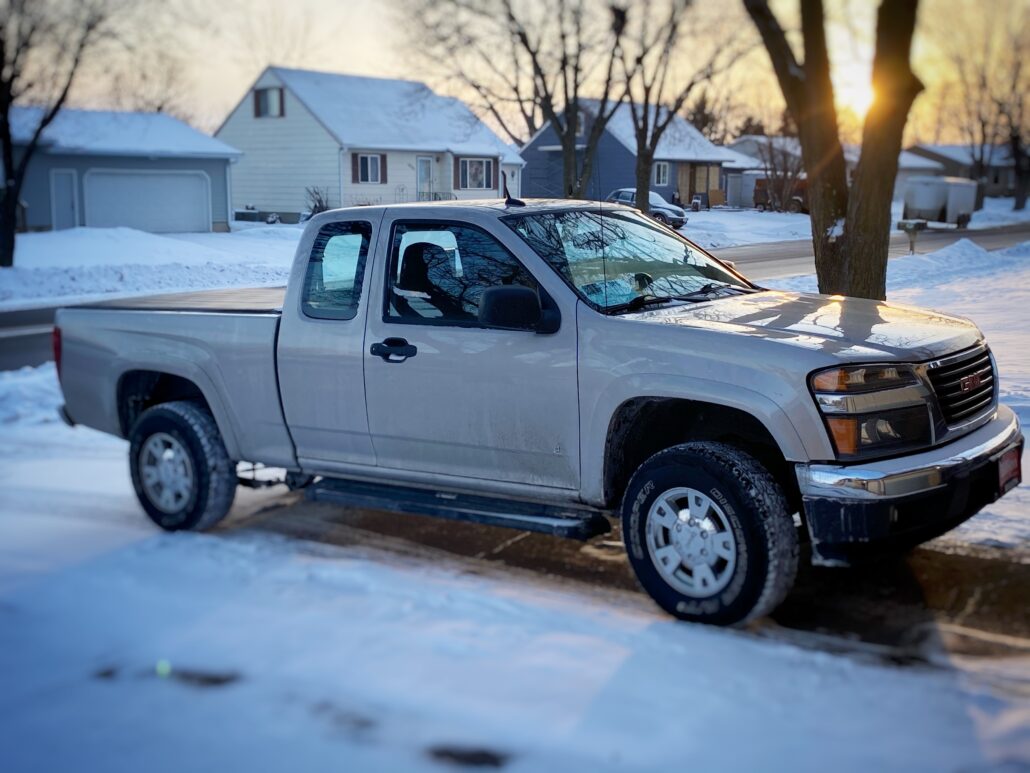 We're looking forward to another blessed year God willing and we pray all of you have a great year too.